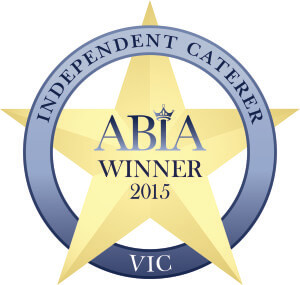 One of Victoria's finest V.O.W.S (Vendor Of Wedding Services), MoreISH Catering was honoured at the 17th Victorian Annual Bridal Industry Awards held at Leonda By the Yarra on the 5th of May 2015.
The Chairman of the ABIA, Mr John O' Meara congratulated MoreISH Catering on their achievement as the Winner in the Independent Caterer category.
Mr O' Meara said that MoreISH Catering should be extremely proud of the achievement having received an overall customer rating of 99.97%.
Mr O' Meara went onto say that it was businesses like MoreISH Catering which complemented and elevated the wedding industry with their attention to detail in addition to the pride, passion and professional manner in which they delivered wedding products to the bridal customer.
The ABIA's are a much sought-after Award for Australian Vendor Of Wedding Services as they are determined by the votes of Australian Newlyweds. Each year almost 30,000 bridal couples are registered to vote for their most outstanding wedding vendors.
MoreISH Catering was nominated for an ABIA based on the quality of product, quality of service, value for money and the attitude of the staff who serviced the bride and groom's needs, before, during and after their wedding day.
A total of 37 wedding categories were represented at the Awards including Jewellers, Limousine Hire, Civil Marriage Celebrants, Wedding Cake Designers, Decorators, Photographers, Disc Jockeys, Video Producers, Make-Up Artists, Reception Venues, Wedding Florists, Wedding Stationery and Special Wedding Services. A total 229 Finalists competed for the 37 different wedding categories which were awarded on the night.
The attendees received an opening address from the Chairman of the ABIA, Mr John O' Meara who congratulated the Finalists on their achievement. Mr O' Meara said that the wedding vendor was unique; as they had just one unrepeatable day to deliver excellence in their products and services. O' Meara went on to say that the quality of the work reflected in the newlywed's votes was something that each and every one of the Finalists could be proud of.
For more information on the Australian Bridal Industry Academy visit www.abia.com.au.
NATASHA O'MEARA
DIRECTOR OF BRANDING
AUSTRALIAN BRIDAL INDUSTRY ACADEMY
E: [email protected]
W: www.abia.com.au P: 07 5571 5550
F : 07 5571 5537